I'm Bonnie Smyre, Raxis' Chief Operating Officer. Penetration testing is a niche in the cybersecurity field, but one that is critical to the integrity of your network and your data. This is the first of a two-part guide to help you select the right firm for your needs.
Step 1: Identify Your Why
There are lots of reasons why companies should routinely do penetration testing. The most important is to understand your vulnerabilities as they appear to hackers in the real world and work to harden your defenses. It may also be that your industry or profession requires testing to comply with certain laws or regulations. Or perhaps you've been warned about a specific, credible threat.
Whatever your reasons for seeking help, you'll want to look for a firm that has relevant experience. For example, if you run a medical office, you'll need a penetration testing company that knows the ins and outs of the Health Insurance Portability and Accountability Act (HIPAA). If you're a manufacturer with industrial control systems, you'll need a company that understands supervisory control and data acquisition (SCADA) testing. The point is to make sure you know your why before you look for a pentest firm.
See a term you don't recognize? Look it up in our glossary.
Step 2: Understand What You Have at Risk
A closely related task is to be clear about what all you need to protect. Though it might seem obvious from the above examples, companies sometimes realize too late that they are custodians of data seemingly unrelated to their primary mission. A law firm, for instance, might receive and inadvertently store login credentials to access clients' medical transcripts or bank accounts. Though its case files are stored on a secure server, a clever hacker could potentially steal personal identifiable information (PII) from the local hard drives.
Step 3: Determine What Type of Test You Need
General use of the term "pentesting" can cover a broad range of services, from almost-anything-goes red team engagements to vulnerability scans, though the latter is not a true penetration test. In last week's post, lead penetration tester Matt Dunn discussed web application testing. There are also internal and external tests, as well as wireless, mobile, and API testing, to name a few. Raxis even offers continuous penetration testing for customers who need the ongoing assurance of security in any of these areas.
Raxis offers several types of penetration tests depending on your company's needs: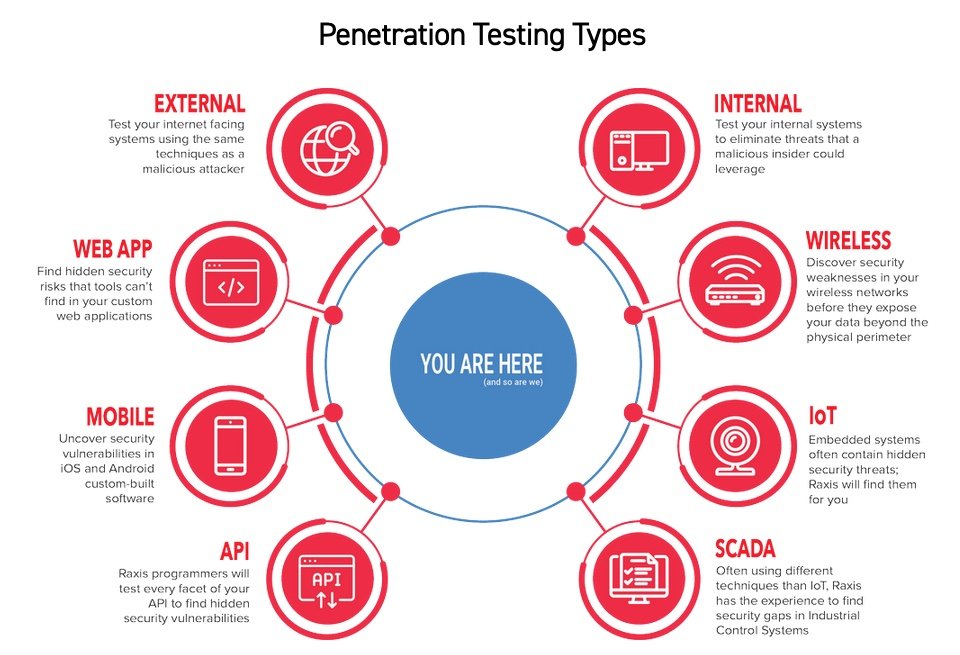 Step 4: Consult Your Trusted Advisors
Most companies have IT experts onboard or on contract to manage and maintain their information systems. You may be inclined to start your search for a penetration testing service by asking for recommendations from them – and that's a good idea. Most consultants, such as managed service providers (MSPs), value-added resellers (VARs), and independent software vendors (ISVs), recognize the value of high-quality, independent penetration testing.
In the case of MSPs, it might even be part of their service offerings. However, it might make sense to insist on an arm's-length relationship between the company doing the testing and the people doing the remediation.
If your provider is resistant to pentesting, it might be because the company is concerned that the findings will reflect poorly on its work. You can work through those issues by making it clear that you share an interest in improving security and that's the purpose for testing.
The downloadable PDF below includes this list of Raxis services with an explanation of what we test and and a brief explanation of how we go about it.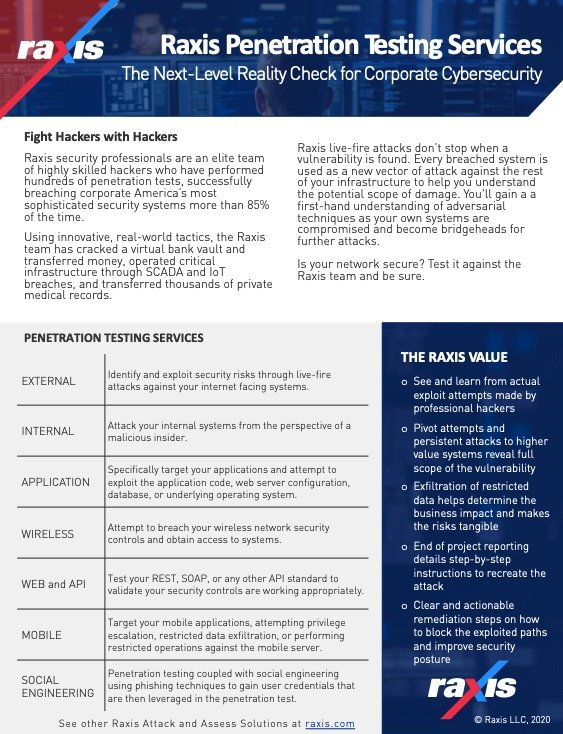 Step 5: Consider Ratings and Review Sites
Another starting point – or at least a data point – is review and rating sites. This can be incredibly helpful since such sites usually include additional information about the services offered, types of customers, pricing, staffing, etc. That gives you a chance to compare the areas of expertise with the needs you identified in steps one and two. It can also introduce you to companies you might not have found otherwise.
Here are some resources you might find helpful as a start:
Step 6: Check References
Once you have your short list of companies, it's a good idea to talk to some of their customers, if possible, to find out what they liked or didn't like about the service. Ask about communications. Were they kept in the loop about what was going on? Did the company explain both successful and unsuccessful breach attempts? Did they get a clear picture of the issues, presented as actionable storyboards?
In addition, it's a good idea to ask about the people they worked with. Were they professional? Was it a full team or an individual? Do they bring a variety of skillsets to the table? Did they take time to understand your business model and test in a way that made sense? It's important to remember here that many pentesting customers insist on privacy. The company may not be able to provide some references and others may not be willing to discuss the experience, However, some will, and that will add to your knowledgebase.
If you've completed steps 1 through 6, you should be armed with the information you need to begin interviewing potential penetration testing companies. You'll be able to explain what you need and gauge whether they seem like a good match or not. And you'll know how their customers feel about their service.
If you found this post helpful, make sure to follow our blog. In the weeks ahead, we'll be discussing the questions you should ask potential pentesting companies – and the answers you should expect to hear.